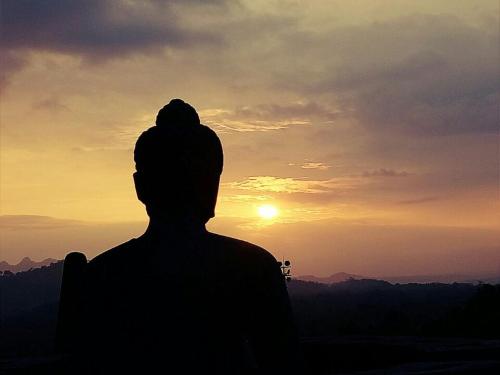 Borobudur Sunset could be a good chance to see the outstanding scenery. Borobudur Sunset ticket is a special entrance ticket for visitors who will enjoy the Borobudur temple at dusk. While enjoying the stunning view, you could get a peaceful mind in a great and extraordinary place. Watching the sun sets could be a near-spiritual experience in the raw beauty of Borobudur, where the temple meets the mountains and when the relaxed ambience of the Borobudur Temple is not too crowded with people.
In this visit you will be given more time to enjoy the atmosphere and explore Borobudur temple until 6.20 PM.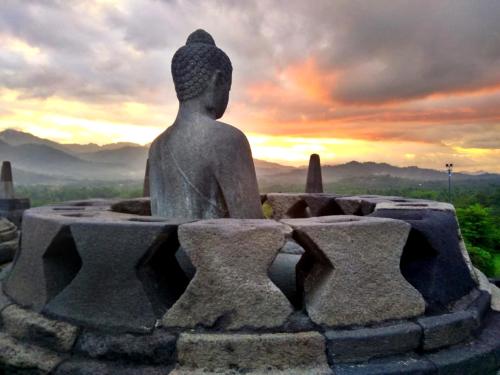 PACKAGE DETAILS :
Adult Price :
Foreigner Visitor : IDR 500.000 per person
Domestic Visitor : IDR 370.000 per person
Student Price :
Foreigner Visitor : IDR 400.000 per person
Domestic Visitor / KITAS : IDR 280.000 per person
Children Price :
Foreigner Visitor : IDR 250.000 per person (6 to 10 years old)
Domestic Visitor : IDR 185.000 per person (6 to 10 years old)
** Children under 6 years old free of charge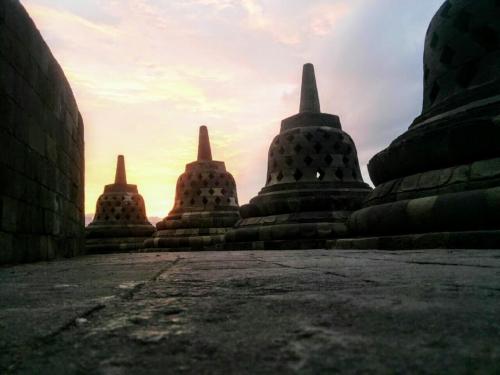 Facilities :
Dinner

Souvenir

Entrance to Borobudur Temple until 06.20 pm (after public close time)

Note :
There is no limitation for the number of Borobudur Sunset visitor.
Copy of passport/identity card is required for Borobudur Sunset registration, you have to bring it when purchasing the ticket.
Free admission is granted for children under 6 year old
All prices shown are for person and quoted in Indonesia Rupiah
Ticket already purchased are Non-transferable
Ticket can not resale and Non-refundable, even if case of inclement weather
Ticket is only valid for one time use of admission
Combine ticket (Borobudur - Prambanan) is not valid
Valid student card is required to get student price
Everyone could purchase the ticket directly without reservation.

For more details, please contact to :
sales@manoharaborobudur.com
reservation@manoharaborobudur.com
+62 393 718 1192 / 1194
*The price valid from January 1, 2020 until December 31, 2020